We are Non-smokers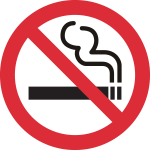 With health improvement as our objective, at our company we strive for all of our company employees to be non-smokers.
For this reason, all of our company premises are completely non-smoking environments and, as well as our own employees, we ask that all clients and visitors to the company also refrain from smoking.
Now, with the spread of non-smoking worldwide and the right to be free from other's smoke becoming socially recognized, there is no getting away from the fact that Japan is a backward country when it comes to non-smoking.
Also, Kyoto, where our company is situated, is one of the world's foremost sightseeing destinations and, while it attracts many tourists, including visitors from abroad, the present situation is that it is lagging considerably behind in its response to the non-smoking issue. In this "backward country" on non-smoking, we can at least tackle non-smoking within our Company and, if possible, it is our desire to extend a circle of non-smoking outwards from the company into the wider community. To this end, for a long time the Company has been working on our Non-Smoking Movement.
However, grappling with this issue has been by no means an easy task.
We present the history of our Non-Smoking Movement below, and hope that everyone is encouraged to join us in the struggle for non-smoking.
From March 2009, Kyoto Taxis to enforce 'No Smoking' Rule.
With reference to our `No Smoking Movement`, regarding which more information can be found on the main page of the Website, Our goal has been not just to encourage a `No Smoking` culture among our employees, but also, in 2007 we collected 10,000 signatures as part of our attempt to lobby Kyoto Prefecture Taxi Companies to initiate a `No Smoking` policy in its vehicles. (We would like to thank all those who contributed to the petition). The petition was presented both to Seven groups in the Business community and also to City Hall via members of the City Council. From there the petition was passed on to the National Assembly via assembly members.
Our efforts have borne fruit. Last year, Kyoto Prefecture Taxi Corporate body, which consists of 60 companies of the kyoto Automobile Association (Fushimi Ku) passed a motion at their Directors meeting enforcing a `No Smoking` policy in all of its associated 6,500 vehicles from March 1st 2009. In light of the Directors decision, a specialist committee has suggested that regarding the enforcement of the `No Smoking` rule from March, every effort should be made to request all such businesses to take part. In addition, the Association has decided to encourage both Companies not affiliated with the Association and Individually run Taxis to incorporate the Ban with the hope that a complete `No Smoking` policy in all Taxis in Kyoto Prefecture can be put in place.
We hope that the successful introduction of a `No Smoking` policy in Taxis will not be limited to Kyoto Prefecture but will spread throughout the country. We are currently engaged in collecting signatures for a petition to ban smoking in all Bars and Restaurants through-out the country. With the collection of signatures and the presentation of this petition we hope to make some solid progress in our ongoing attempt to grapple with this issue.
Kyoto Prefecture Award for Tackling Health Issues in the Workplace' Official award ceremony
As was posted on the homepage on 30 January, `Kyoto Prefecture Award for Tackling Health Issues in the Workplace` award ceremony took place on 2 February (Thursday) at 1.30 p.m. at Kyoto Prefectural Reception Hall.
The main criteria of the `Kyoto Prefecture Award for Promotion of Health Issues in the Workplace` were as follows: Each company must have "Implemented positive measures for the promotion of health related initiatives in the workplace. The award is designed to reward the efforts of Companies within Kyoto Prefecture who have grappled with various Health issues and have succeeded in elevating the awareness of such issues among their employees". As an award for the promotion of Health related issues in the workplace, it is the first of its kind in Japan to be granted at Prefectural level.
In total there were 10 companies awarded prizes. At the Awards ceremony, after the opening remarks, Prefectural Governor Mr. Yamada presented the prizes, followed by a speech by the Governor, directed at the award winners. This was followed by the congratulatory speech by the Chairman of Kyoto Prefectual Assembly and the introduction of esteemed guests. After the formal closing of the event, the participants gathered together for a photograph. The Awards ceremony was followed by a `Networking` session. The committee directed constructive criticism towards the participants, which was followed by a discussion among the participants themselves regarding the nature of the issues each company had faced. One employee from each company outlined details such as what kind of problems they had grappled with, and from this point forward what kind of progress they hoped to make. Among the businesses who participated, there were a number who had instigated policies regarding Non-Smoking, such as separate Smoking areas and No Smoking policies. However, Nakano Seiyaku was the only company which had reached the milestone of having all employees as Non-Smokers. Regarding this initiative a number of questions were put forward by our fellow recipients.
Nakano-Seiyaku were honored with this award for the following reasons, as outlined by the Awards committee: "For 15 years Nakano has grappled with the issue of attempting to create a `No Smoking` culture within the company. Since 2006 all employees have been officially Non-Smokers; this policy also extends to those who enter the grounds of the company on official business. In addition, the Company has been actively involved in petitions aimed at the implication of `No Smoking` policies in both Taxis in Kyoto Prefecture, and restaurants and bars around the country. We recognize the positive contribution the company continues to make in this area". From this point forward, Nakano-Seiyaku, based on the world standard, will continue to work on the promotion of a `No Smoking` culture, as well as attempting to deal with other health issues such as obesity. We will continue to grapple with such issues in our attempt to further promote a `Health Culture` both within our company and the broader society.
(on the left) Kyoto Preectural Governor Mr. Kenji Yamada.
(on the right) Nakano-Seiyaku Principal Director Mr. Akio Horie.

Prefectural Governor Yamada with the assembled members of the ceremony.
[Companies receiving awards]

OMRON Corporation Keihanna Innovation Center (Kizugawa City)
Sanitary Kyoto Co.,Ltd. (Fukuchiyama City)
Shofu Inc. (Higashiyama Ward)
Takeda Tax Accountancy Office (Kizugawa City)
NAKANO Seiyaku Co.,Ltd. (Yamashina Ward)
Nissin Manufacturing Co.,Ltd. (Kyotango City)
Nitto Seiko Co.,Ltd. (Ayabe City)
Japan Atomic Energy Association Kansai Photon Science Institute (Kizugawa City)
Panasonic Semiconductor Discrete Device Co.,Ltd. (Ukyo Ward)
Fujihara General Accounting Office Co.,Ltd. (Kizugawa City)


※In Japanese alphabetical order, honorifics omitted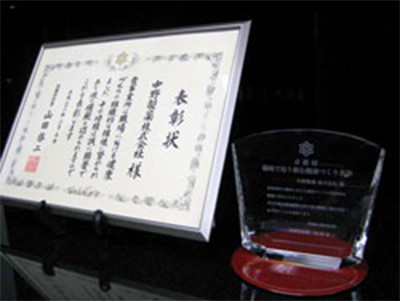 Regarding our Non-smoking Movement
1992

Decision to enforce non-smoking during company meetings

1993

Decision to limit smoking to designated areas on company premises (change to a separation of smoking and non-smoking)

1998

Reduction of designated smoking areas on company premises

2000

Further reduction of designated smoking areas
Change to non-smoking vehicles for all new company vehicles (removal of ashtrays at time of purchase)

2003

Total indoor smoking ban at each company premise
Recommendation for management to be non-smoking, accompanying an enforcement of improved health laws
Screening of the video "Cigarettes and life-style related diseases" in each department, followed by discussion

2004

Decision to issue non-smokers with a Non-Smoking subsidy in order to encourage non-smoking

2005

Establishment of plates reading "Nakano enforces a total ban on smoking" at reception in the entrance of each company premise
With the aim of further increasing the number of non-smokers, the change from Non-Smoking subsidy to a system of allowances for non-smokers
Achievement of a 75% rate of non-smokers within the Company

2006

Declaration at the New Year ceremony of our intention to achieve a 100% rate of non-smokers by 2008
Decision to ban smoking in every workplace and every company premise. Request that our customers and clients not smoke when visiting the Company
Achievement of a 99% rate of non-smokers within the Company

2007

Commencement of our signature campaign calling for a total smoking ban within taxis operating in Kyoto Prefecture
Submission of around 10,000 signatures calling for a total smoking ban to 7 groups within the taxi industry; in addition, a petition to Kyoto City through city councilors and to the National Diet through Diet members
Implementation of our signature campaign calling for a total smoking ban in restaurants throughout the country
Collection of around 10,000 signatures and petition to the Diet through parliamentary members
Achievement of a 100% rate of non-smokers within the Company

2008

Affiliation with the NPO Kyoto Association for Tobacco Control in August

2009

Our Non-Smoking Movement, which started with a smoking ban within company meetings, has, over a long period of time spanning 15 years, resulted in 100% of our Company employees being non-smokers. We are continuing with our activities in this struggle towards non-smoking, not just within the Company, but with the aim of extending them to the wider community in future.

2016

Continuation of our Non-Smoking Movement with the aim of all company employees being non-smokers.